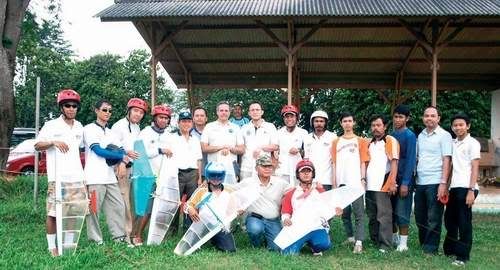 All fliers and friends gathered together.
Combat in Indonesia
I was in Indonesia last year in March. I knew Yan Fajar because Iskandar Taib told me that the Indonesian F2D fl iers needed some stuff, so I started an email conversation with Yan. Yan is the person responsible for all Indonesian model fl iers including R/C, Helicopters and Control line.
I was in the area for a business trip and stopped in Jacarta for the weekend and I fi nally had the plesaure to meet the F2D reality in this wonderful country. I got a warmly and unexpected welcome from all and representative persons that I meet during my stay including the president of Indonesian Aeromodelling Association.
The reality in Indonesia regarding the aeromodelling activity is hudge and really unexpected. The F2 fl yers are so many and the number of people that are fl ying F2D is so much higher than Italy, France, Germany and Spain all toghether... The economy in Indonesia is not comparable with Europe but all the aeromodelling activity are supported by the National Air Force.
They have their own rules of the country and as they are so far away from the rest of the world it is not easy for the people to take part in International events. In F2D I meet at least 30 pilots and I can not remember all their names, but I remember the warmly welcome that I received. I was treated like a star, some clubs came from 1000 km away, some from Java, just to meet me and see me fl ying and learn something from the "stranger".
We spent all the Saturday on the fi eld just 30 minutes from downtown Jakarta, a beautiful sunny day not very hot and not very humid. 30 fl iers as I already said, all of them ready with their F2D equipment with standard F2D models, some standard F2D engines and "their" equipment... "Their" equipment consisting in "easy made foam models" powered by OS15 plain bearing engines.
Adriano teaching how to pit in fast way.
This model, projected by Yan Fajar, is amazing and cheap, fl ying very well as normal F2D models, everybody can make it by themself with a cost of maximum 4 euro!!
The Army totally support the fl ying activities, improving the students to become much more interested in aeronautic science and techniques, paying also for the clubs and incouraging the people to win the competitions is all a kind of long term investment in recruiting new generation of pilots.
They told me that 2 times per year they organize big competitions, one on Java and one on Sumatra, open to everyone in all aeromodelling cathegories and through their sponsors the prizes are very important.
In certain cases the fi rst place includes a car on an apartment!!! They are a little lack of combat tactics and safety rules and also in the flyng style. I pushed them to read at least the safety rules thereby running their competitions in a way more close to the international way.
Since two years back, during their Natonals, also the Malaysian friends went there to enjoy this fantastic atmosphere. Yan told me that he wants to push the top management of the clubs to put into the international calender one World Cup competition hoping that the Australian and the New Zeeland pilots can joint them.
Adriano Molteni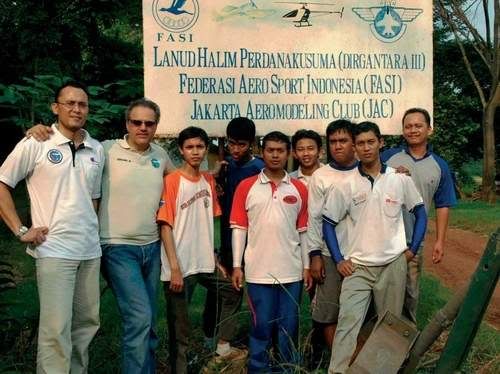 Yan, Adriano and F2D pilots.